Here's some news on the Mackenzie front -- she just had her nine-month doctor's visit this afternoon. Pertinent statistics include:

*29.5 inches
*19 pounds
*90th percentile height
*50th percentile weight
*60th percentile head circumference

I'm not sure what all that means, but I'm guessing Mackenzie is on the road to playing center for York University in 20 years.

And now, the cuteness: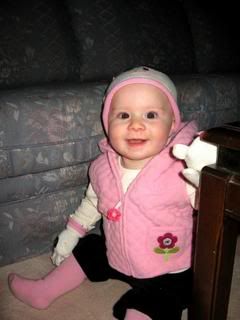 Mac'd been struggling with a cold for more than a week before she finally whipped it. Still a trooper, though, and still has me wound around her little finger.

Cabot update! This young man is coming on strong, with four out of five days in the white in his SK class!

No, I don't really know what that means either -- I think it's some adaptation of the American terror alert colour chart. In any case, BRAVO!